The offices are directly in the building of VUD. The building is strategically located in Žilina, surrounded by shops and business centres.The centre of the city is 3 minutes away by car also the railway station. The transport connection is provided by public transport and predetermines unique and trouble-free transport accessibility and flexibility.

The building has 3-floor, reception, lifts and safety system. The building is available open for nights, weekends and public holidays - entrance is possible 24 hours / 7 days per week. Free of parking.
OFFICES
- capacity for small or larger companies,
- rentable office space from 10 to 38m2
- wifi, telephone postal boxes
- his and hers restrooms.
---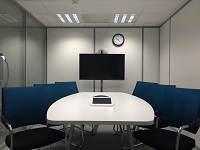 MEETING ROOMS
- space for events of any type - 18m2, 35m2 a 90m2,
- professional, affordable meeting rooms for a training session, workshop or conference
- spaces are available by the hour, half-day or full day,
- WiFi and usually audio and presentation equipment,
- teas, coffees and water.